Teachers held by Police ... at football!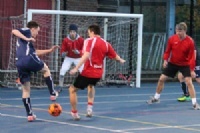 Heston Staff 5- The Police 5 - "a game of two halves!"


Heston's staff demonstrated their footballing skills when they took on the Heston and Cranford local neighbourhood Police team. The match took place on the School's new Astroturf pitch under floodlights after school on Friday 15th November.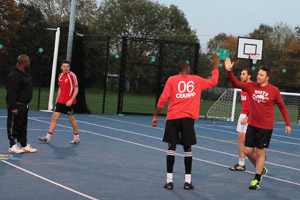 Honours were even at the end of a fantastic match which finished 5-5. Sam Saib, captain of the staff team, was disappointed that they could not hold onto their 5-3 lead. With goals from Dan Walters, Natai Brown (both pictured right celebrating the first goal) and Hugh Gilroy the staff looked in control. But Sam Saib acknowledged the contribution of Sixth Form student Amar Bhatia whose man of the match performance in goal frustrated the police team. He said: "It was disappointing not to finish outright winners, but the match was played very competitively and both teams had chances to win the game. The match was played in a great spirit and we are looking forward to the next match"
The School are now proud joint holders of the inaugural Heston NPT Trophy (pictured left) which they will share with the police until the next match.
Danny McIntosh, the Safer Schools Partnership Officer for Heston, who organised and refereed the game said: "We thoroughly enjoy the match and are looking forward to the next match. As well as being great fun events like this help to build bridges between the police and schools and particularly with the students who saw both the police and their teachers in different roles on the football pitch"