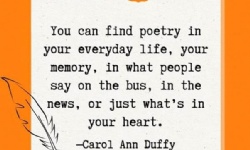 Poetry workshop at Lampton
Published 04/12/23
Fifteen aspiring poets from across KS3 visited Lampton School to meet published poet, Neal Zeller. Zeller explained how he uses poetry as therapy but also for fun, performing a range of his own poems covering topics as diverse as frustration on tube trains, to a fear of dark alleyways, to a love of peanut butter!
His quirky and individual poetry style engaged the students, who experimented with vocal recitation and public speaking skills, before finally working on their own poems.
Zeller coached each student, giving them the freedom to really express themselves. Their poems covered serious topics from anxieties about exams, to gratitude to parents, to fear of darkness and uncertainty about identity. The finished poems showed emotional maturity and courage; they were also beautifully accomplished in terms of technical skill. Some will be published in the next issue of the Heston Voice and we hope they will resonate with all of our readers.
"I really enjoyed the trip because we learnt more about poetry and different types of poems. We also got to write our own poems, which I found fun - I wrote mine about clowns! We listened to poems being read aloud and even performed a choral reading of some poems, too. At the end, we got to read our poems in front of other students and teachers, which pushed me out of my comfort zone. Overall, I found the trip interesting and educating."
Kaia Hall, [9Y]
"The poetry trip was fun, enjoyable and an informative experience. I have learnt new writing styles and I would love to develop even more writing skills. I think this day was beneficial to all of us interested in poetry."
Arlynn Rodrigues [8Y]
Read More