Science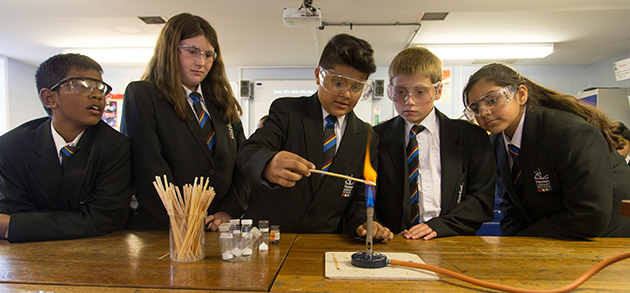 The Science Curriculum at Heston Community School aims to engage and enthuse students, whilst developing an interest in the world around them and the wider universe. It also aims to develop curiosity in scientific matters and issues concerning us all and, in particular, gives our students a firm grounding in key scientific ideas and theories. Excellent teaching by specialist staff further augments the high quality of learning and teaching, which takes place.
Click here or on the link on the left to find out more about the Science Enrichment Programme
At Key Stage 3 (Years 7 and 8) all students follow a broad Science Curriculum which develops their skills and knowledge in preparation for Key Stage 4.
Key content includes:
| | | |
| --- | --- | --- |
| Biology | Chemistry | Physics |
| Cells, skeletal, digestive, circulatory and reproduction systems, photosynthesis, ecology, DNA and evolution | Elements, compounds, periodic table, mixtures, acids and alkalis and the rock cycle | Energy, fuels, electricity, forces, motion, light, sound, magnetism and space |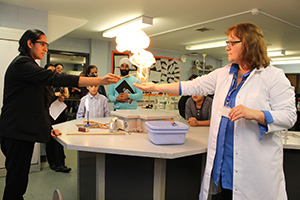 Students will also learn to conduct safe practicals, process results and draw valid conclusions. They will further develop both literacy and numeracy skills through explaining scientific phenomena in real-life contexts.
At Key Stage 4 (Years 9, 10 and 11) students have a choice of pathways to follow – GCSE Separate Sciences, GCSE Combined Science. Students are supported in choosing the most appropriate course for them, taking into account their intended academic and vocational interest.
Key content includes:
| | | |
| --- | --- | --- |
| Biology | Chemistry | Physics |
| Cells and organisms, respiration and photosynthesis, health and disease, environment, evolution and genetics | Atom structure and bonding, chemical analysis, reaction rates, neutralisation and electrolysis | Heat transfer, energy, waves, magnetism, space, forces, motion, electricity and radioactivity |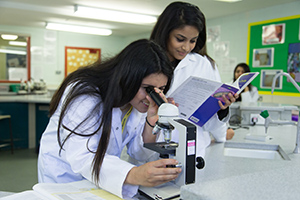 At Key Stage 5 (Years 12 and 13) we offer Biology, Chemistry and Physics Advanced Level qualifications, each delivered by specialist teachers. These courses are very popular and many of our student go on to Science careers in Medicine, Pharmacy, Optometry, Dentistry, Biochemistry, Chemical Engineering, Petroleum engineering, Civil engineering and Physics.
Key content includes:
| | | |
| --- | --- | --- |
| Biology | Chemistry | Physics |
| Biomolecules, cell ultrastructure, Lungs and Hearts, DNA and genetic engineering, ecology and animal behaviour | Atomic structure and isotopes, quantitative chemistry, bonding, periodic table, enthalpy, organic chemistry and analysis | Electricity, projectile motion, quantum theory of light, cosmology, electromagnetism and particle physics |
Useful websites to support your child:
Key stage 3
Key stage 4
(Biology, Chemistry, Physics and Combined Science Trilogy)
KS5
Biology and Chemistry Keboodle
Click here for further recommended A-Level Reading Lists
Science Careers
http://sciencecouncil.org/careers-from-science/?gclid=CKT6nY7NuMsCFZadGwodzf8HPA
http://www.sciencebuddies.org/science-engineering-careers