SEN & Inclusion
Inclusion
The Inclusion Team supports students who experience barriers to learning and have difficulty accessing the curriculum. The Team is led by the SENCo who has overall responsibility for leading Special Educational Needs (SEND), the Hearing Impaired Unit (HI) and the English as an Additional Language (EAL). The Team also consists of an Assistant SENCO, SEND Manager, HI Manager, EAL Coordinator, two teachers of the Deaf and 8 teaching assistants.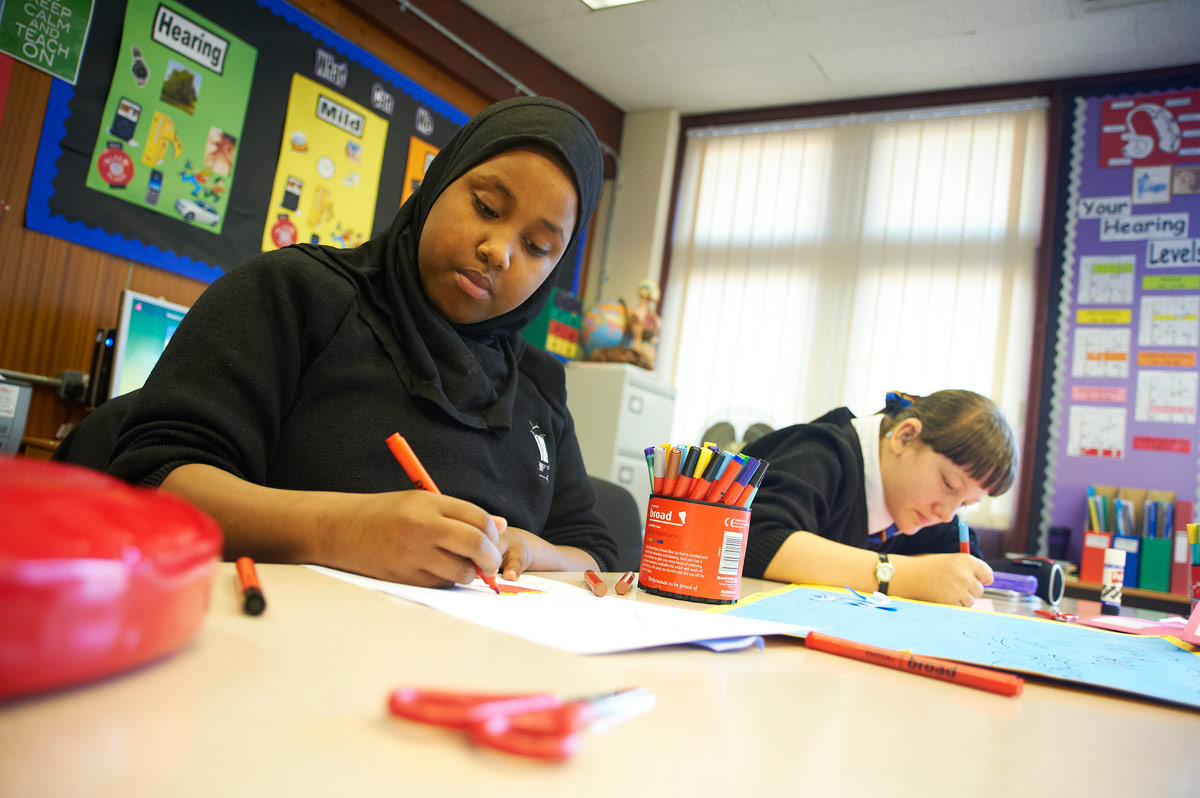 Heston is home to the borough's Hearing Impairment Unit. The School also has the services of Learning Mentors and a Counsellor who work with students. Additional support is provided through the work of external agencies that regularly visit the School and include speech and language therapists, educational psychologists, behaviour specialists, physical disabilities advisory teachers and teachers from the sensory impaired service.
Support is provided through quality first teaching in the classroom, withdrawal intervention sessions with specialist teachers and 'in-class' by specialist teachers and teaching assistants. This includes supporting students with Communication and Interaction, Cognition and Learning, Social Emotional and Mental Health Difficulties and Sensory and/or Physical Needs. At Key Stage 4 (Years 10 and 11) a reduced curriculum offer is put in place to support those that need extra literacy and the option to attend college courses. Students also receive careers support from our careers advisor regarding the transition to post 16.
Support Centre (Bubble)
The Support Centre which is known as the Bubble helps a variety of students. It is a secure, supportive and friendly environment which provides a flexible response to students' individual needs and cares for the whole child. Students may work here for a number of different reasons including issues with one or more of the following: relationships, bereavement, attainment, attendance, self-esteem or physical injury which makes it difficult to get to lessons.
EAL
In the EAL Department we offer language support to those at an early stage of learning English, as well as to students who have more advanced language skills, but may still be making language errors.
Top ten languages spoken at Heston Community School
Punjabi
Urdu
Somali
Hindi
Arabic
Pashto
Polish
Dari
Gujarati
Portuguese
The key aim of the EAL Department is to support students for whom English is an Additional Language in order to facilitate their access to the full curriculum and to achieve their full potential
The type of help and support we offer depends on a number of factors, including the length of previous education, whether the student is literate in their first language, their level of English and how long they have been in the UK. The department has a number of interventions in place to support our students and some of these are:
On arrival: The students have an EAL assessment, focussing on their ability in
listening, speaking, reading and writing. We try to place the students according
to their academic potential and previous educational experience.
Buddies: new students are introduced to a buddy in their year who look after
them while they settle in. The buddies show their new friends around the school
and during breaks and lunchtimes so that they are always supported by their
peers.
Our Space for Learning: The EAL room is located next to the bubble, along the
welfare corridor. The space is a fully equipped classroom with an interactive
whiteboard as well as a library of books and resources especially for EAL
students.
Types of Support: Support is offered at a range of levels, and individual needs
are taken into account. Depending on their level of English, students may receive
weekly individual, or small group lessons to develop fluency in reading, writing or
speaking. Students are supported in their core subjects of English, Maths and
Science until it is deemed necessary from both the EAL staff and subject teachers.
Lexia: This is an online reading programme which supports the development of
KS3 & 4 EAL pupils' reading skills in English (including reading for meaning), as
well as helping them to learn spelling patterns and pronunciation. The reading
software offers students the opportunity to learn to read through phonology,
vocabulary and comprehension. Pupils have their own log on details and can
access the programme at home. Parents are informed of the programme and its
benefits and encouraged to support their child in using the programme. Lexia
has its own assessment system which enables us to track pupil progress and
guide pupils.
Afterschool clubs: Students are encouraged to attend homework club where they
will be given further support on their learning.
Reading club: We offer Reading club for KS3 students during registration one day
a week.
Exam intervention: Students in year 10 and year 11 are given extra support
through intervention lessons to further develop their understanding in the core
subjects.
Valuing their First Languages: First languages of EAL students are valued and,
where possible, the students can sit GCSE examinations in their mother tongue.
Support in Exams: If the pupil has been in England for less than two years they
may be allowed to have 25% extra time in their exams, and to use a bilingual
dictionary (for most subjects). They can have access to a supported small room,
rather than sit in the main exam hall.
Below are links to some useful websites to help improve English: