Pupil Premium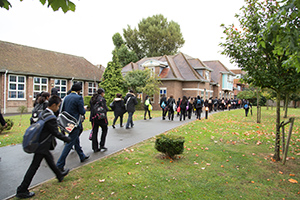 Pupil Premium
What is it?
The Pupil Premium is funding which all schools receive for any student who is currently, or has been at any point over the past 6 years, in receipt of free school meals. This funding is used to accelerate the progress of these students.
How much does our school get?
The Pupil Premium for the 2016 to 2017 school year is £935 per student. Funding is also provided for looked after Children (CLA) at £1900 per student.
| | | |
| --- | --- | --- |
| Year Group | Number of Pupil Premium students | Proportion of Pupil Premium students |
| Year 7 | 58 | 31% |
| Year 8 | 59 | 31% |
| Year 9 | 59 | 31% |
| Year 10 | 70 | 37% |
| Year 11 | 59 | 31% |
| TOTAL | 305/954 | 32% |

The proportion of our students eligible for the Pupil Premium compared with the national average.
| | | | | | |
| --- | --- | --- | --- | --- | --- |
| | 2013-14 | 2014-15 | 2015-16 | 2016-17 | 2017-18 |
| HCS | 33.1% | 34.1% | 33.9% | 34.0% | 32% |
| National | 28.5% | 28.7% | 28.9% | 27% | |
Evaluation 2016-17
How was the Pupil Premium Grant spent?
Some students may already be doing well in their subjects, but they need things to stretch them further, help them aim higher and build their confidence. Planned activities such as university visits, aspirational workshops and enrichment days were put in place. Some students also needed financial help so they could take part in activities and trips.
The money is also being targeted for students who may be underachieving in subjects, and we have created a programme of study delivered through Saturday and holiday classes in order to support these students.
PROGRESS 8 - GROUPS

Results

Results

Results

2015

2016

2017

All students

0.74

0.47

0.80

Male

0.42

0.25

0.73

Female

0.70

0.67

0.89

Disadvantaged

0.48

0.17

0.72

Not-disadvantaged

0.60

0.60

0.83

FSM6

0.48

0.23

0.78
Pupil Premium students made great progress from their starting points and made a positive Progress 8 score of 0.72 for disadvantaged and 0.78 for FSM6, meaning they added over half a grade to their best 8 subjects according to the targets they were set when they join us in Year 7.
The gap between non-pupil premium and pupil premium is 0.08 overall. In fourteen out of twenty-six subjects the gap had diminished and in English, Sciences, History and BITE the pupil premium students outperformed the non-pupil premium students.
Key strategies that have proved successful in 2016-17
First wave quality first teaching, especially in English, Maths and Science.
Whole school focus on PPG (Curriculum area action plans)
Provision of intervention sessions in Maths and English
Provision of revision materials and resources to support independent study
Before, after and during School targeted sessions for all curriculum areas
Provision of focused revision sessions in holiday times and on Saturdays
Summer School supporting students with the transition from Primary into Secondary School.
Here are some of the strategies we are planning to have in place in the academic year 2017- 18
PROVISION

PURPOSE

COST

CURRICULUM PROVISION

Additional staffing for English and Mathematics and Whole School PPG Co-ordination

Allows for setting and smaller class sizes. Increased leadership capacity to allow for monitoring and tracking of the PPG cohorts to diminish the Gap.

£189,291

Reading Programme - KS3

To raise literacy levels

Improve reading skills

To widen vocabulary

To encourage reading for pleasure

£3,375

Alternative qualifications for Year 11

Securing additional qualifications delivered in the holidays and over weekend lessons

£11,000

RAISING ASPIRATIONS/EXTRA-CURRICULAR/ENRICHMENT

Allocated funding for Learning Coordinators

To purchase:

Equipment
Uniform
Student well being
Enrichment activities

£271

Curriculum Area Interventions & Support Programmes

Links with Russell Group Universities

External speakers to look at future aspirations

Enrichment activities and trips

Resources - Revision guides/Specialist equipment

Targeted subject interventions

£1,000

(Bidding forms)

£1,500

(Growth Mindset Project)

£49,100 (Planned Interventions)

PARENT ENGAGEMENT/STUDENT WELLBEING

Coffee Mornings

Informal meetings held every week for parents. Sessions are also open for parents in collaboration with local primary schools.

£200

Parental Workshops

Workshops are provided throughout the year to support parents in their children's learning and how to support at home. Sessions are also open for parents in collaboration with local primary schools.

Parent Forums

Regular forums are held to inform and involve parents in school issues

Breakfast Club

Breakfast provided for vulnerable students every morning in our school canteen

£2,000

STAFFING/SUPPORT

Attendance Officer &

Data Officer

Data tracking for the PPG cohort

Inform Learning Coordinators if the PPG students fall below the 95% target (follow the schools attendance policy) and collate meeting notes with parents/carers and attendance reports issued to students
Keep a detailed spreadsheet of attendance and reasons for absence

The aim is to employ a data officer to track the PPG cohort with a focus on gaps in the following groups;

ethnicity
attendance
curriculum area

£24,353

CPD – Raising achievement and Partnership Programmes

Continual professional development of teachers and support to ensure high quality Teaching and Learning.

£12,500

BUDGET

£293,574
How will parents know it is working?
We closely monitor and track student progress each term through the internal assessment and reporting cycle which allows us to see if the interventions are working.
Students who take part in interventions will be assessed at the start and end of the intervention so that we can see the difference in progress being made.
We will report to you on parent evenings, but if you would like further information about your child's progress please contact the Learning Coordinator for their year group.
Where can I get further information?
For more information about how we plan provision and track progress please contact Miss Michelle Stone, Assistant Headteacher on mstone@hestoncs.org
Who can I speak to as a parent?
At Heston Community School we are committed to working in partnership with parents and carers; we believe strong parental support is key to students learning and progression. We have the Student Services Manager, Mrs Summerell, who works directly with students and parents and is always available to support.
There are also weekly Parent Coffee Mornings and we would welcome all parents to come in for a cup of tea or coffee and an informal chat about their child and the progress that they are making. The School also holds Parent Workshops throughout the year where we offer support in developing parent/carer IT skills, CV writing and strategies to support children's behaviour.
How do I know if my child is entitled to Free School meals?
As you can see the funding we receive for students on Free School Meals is used to support their achievement and progress. If you think your child may be entitled to Free School Meals, or if you need to reapply for this provision, then please contact Mrs Summerell in the Student Services Department (Welfare) and she will be happy to help you. ssummerell@hestoncs.org.uk