ICT

In today's World ICT is constantly evolving with emphasis on technological and information literacy skills, they are becoming as important as having numeracy and literacy skills.
ICT related skills are a major contributor to a countries economic and social success. 90% of all jobs require some degree of ICT literacy. With over 22 million employees using ICT in their daily jobs it has never been more valued as a subject in today's world. Further to this the ICT industry has been facing a shortage in the number of skilled workers. It is such a broad industry ranging from fields such as Telecom communications, the Gaming industry and Security; working in ICT has never been more exciting. The Computing Science Department at Heston aims to equip you with skills to use new technologies and exploit them to your advantage and ultimately to the advantage of the wider society.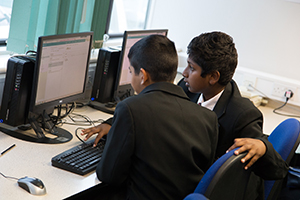 Key Stage 3 (Years 7 - 9)

At Key Stage 3, the Computing lessons are delivered in rotation with the technology courses therefore learners will study three units each school year. These units are planned to prepare them for further study at key stage four on either the GCSE Computer Science or BTEC level 2 course in Information and Creative Technology.
The units studied at key Stage 3 are:
| | |
| --- | --- |
| Scratch Programming | Binary and Control |
| Spreadsheets | Python Programming |
| E-Safety | Networks |
Computing Club is run every Tuesday for Key Stage 3 students with all welcome to attend. In this club students have the opportunity to develop skills in website creation, games programming and robotics programming.
Key Stage 4 (Years 10 - 11)
At GCSE learners are given the opportunity to undertake the new Computer Science course, which is relevant to the modern, changing world of computing. This course is designed to boost computing skills essential for 21st century whilst looking in great detail at the impact Computing has on society. The course is engaging and contemporary as it focuses on companies like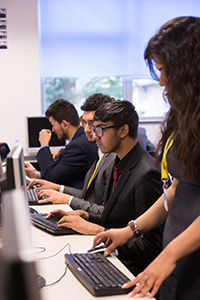 Microsoft, Google and Cisco, organisations like Computing at School (CAS), plus teachers and academics. With this course there is great emphasis on 'computational thinking' as students can learn the theory and apply it in real life situations, programming computer languages. The course encourages mental versatility as students use their new-found programming skills on an independent coding project by solving a real-world problem of their choice.
The BTEC Level 2 Information and Creative Technology qualification is a vocational course combining practical units with one examination unit. Here learners have the opportunity to gain a broad knowledge and understanding of, and develop skills in, the information technology sector and some aspects of the creative industries. This course supports progression to a more specialised level 3 vocational or academic IT/computing course, or an apprenticeship giving learners the potential opportunity, in due course, to enter employment within a wide range of job roles, across the information technology sector and some aspects of the creative industries.