Geography
There has never been a more fascinating and important time to study Geography. Our world is more familiar than at any point in its history, yet the number of unknowns and uncertainties are equally unprecedented.
The Geography Department at Heston seeks to enable students to make sense of their world, and to understand the processes, both human and physical that shape it.
Key Stage 3
We strive to teach Geography as a contemporary and dynamic subject. During the students KS3 studies they will address a number of key issues including climate change, resource depletion and sustainable development. The students will explore crucial questions about the sort of future society that we wish to create, making it extremely relevant for today's school children. The students will also learn about key geographical skills.
As a department we strive to use a variety of teaching methods to bring Geography alive. To do this students have made model volcanoes and carried out actual field work investigations.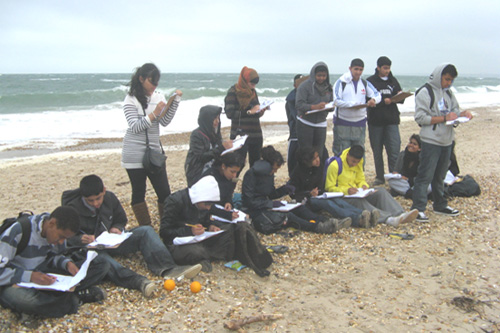 Key Stage 4 (Years 9-11)
Those students who started their Geography GCSE in 2015 will study a range of topics that are key to understanding the world around them. These topics include natural hazards, the physical landscapes in the UK, urban issues and challenges, the changing economic world & the challenge of resource management. During this programme of study the students will also carry out fieldwork studies which they will need to utilise in their exams.
If the students started their Geography GCSE course before 2015 they are studying a range of topics including economic development, population and settlement, rivers and coasts and natural hazards. As part of this course the students attend a one day field trip to Hengistbury Head which forms the basis for their controlled assessment task.
Key Stage 5 (Years 12-13)
This course involves students studying a range of topics which will help to develop their geographical understanding. They will study topics such as the water and climate cycle in the rainforest, natural hazards such as volcanoes and earthquakes and the impact of globalization.
The students will also complete a 3000-4000 word investigation which will be based on 4 days of fieldwork and focus on both human and physical geography.
Careers for Geographers can include:
Hydrologist / Coastal Manager / Geologist / Civil Engineer / Soil Conservationist / Travel Agent/ Tourism Officer / Eco-Tourism Advisor / Tour Guide / Media Researcher / Estate Manager /Forestry Ranger / Environmental Consultant / Pollution Analyst / Conservation Officer / Weather Presenter/ Disaster Manager / Flood Prevention Officer / Risk Assessor / Water Supply Co-ordinator / Planner / Social Worker / Market Researcher / Housing Officer / Estate Agent / Economic Developer/ Location Analyst / Retailer / Regional Developer / Transport Manager / Aid Worker/ Diplomat/ Refugee Advisor / Charity Co-ordinator