English Enrichment
The English department offers students a range of opportunities of extra-curricular activities through trips, clubs and competitions as well as encouraging effort and achievement through an English Awards programme.
Rewards
In our Department students are rewarded for the positive contributions that they make to the learning environment. Students who are identified by their teacher or go above and beyond by always putting in maximum effort are celebrated in their respective year group assemblies.

Competitions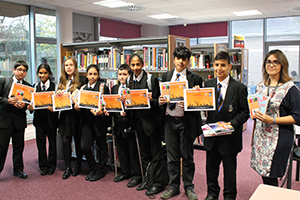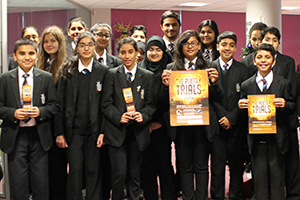 The English Team run a variety of competitions throughout the school year; so far this academic year we have had successful winners in Ms Birk's KS3 Spooky Story competition and thanks to Ms Farmer we have also had 28 students published in an anthology as part of the national Poetry Trials competition.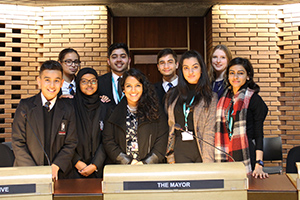 Rotary Club
With the support of Ms Chandegra and Ms Farmer, we successfully entered two teams (one Year 9 and one Year 12) to this years' Youth Speaks competition where our teams spoke avidly on two topics: 'The undeserved success of Youtubers' and 'Can money really make you happy?'. Our Year 12 team picked up runner-up for the Vote of Thanks and Chairperson roles – a great success all round!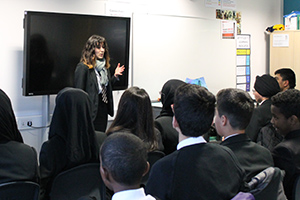 Jack Petchey: Speak Out
56 students from Year 10 were selected by their English teachers to attend the Jack Petchey "Speak Out" Challenge! Workshop. As part of this workshop students participated in speaking games and challenges in order to develop and refine their public speaking, a key life skill.
All students were focused and resilient in their approach to all tasks, which involved: learning how to think on their feet through games; learning how to prepare a speech; preparing a speech on a subject of their choice and delivering their speech with skill, confidence and enjoyment.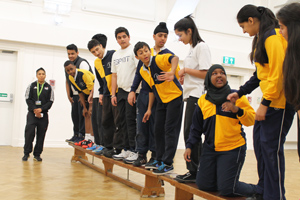 English and Sport
As an English Team we are innovative in our approaches to making sure that all students maximise their life chances. Last year the English Team lead on the Sky Sports for Living project which involved us working in collaboration with Hannah Beharry, a female boxer, on developing students' resilience and focus.
This year teachers are working with the charitable organisation, Football Beyond Borders, with a group of Year 11 boys. This project involves an hour session each week developing our analytical skills in preparation for the English Literature GCSE; the class session is then followed by a football training session with FA trained coaches, working on developing team work, focus and resilience – skills that are inextricably linked to students successes in the classroom.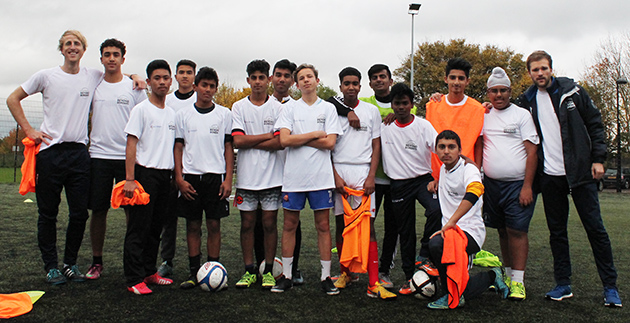 Primary School Links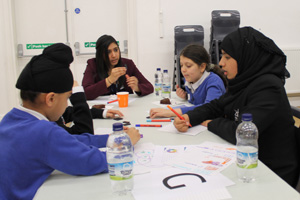 For the past two years groups of Year 7 students, along with Ms D'Lima, have been working closely with Year 5s and 6s from our feeder schools to develop literacy skills in preparation for their transition to secondary school. This project enables our Year 7 students to develop their leadership skills, whilst also supporting us in improving the academic transition from primary to secondary school.
Spoken Word and Visiting Poets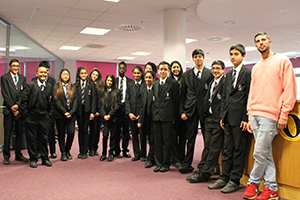 We endeavour to ensure that we provide our students with as many enriching opportunities as possible. Recently we have had workshops delivered by Anthony Anaxagorou, a spoken word poet, and Sian Bangura, a poet and journalist. These opportunities provide students with an awareness of the importance of English out in the real world; students are offered an insight into how the skills we are developing in lessons can be developed further creatively.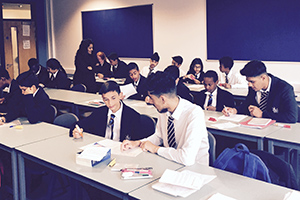 Year 10 Mentors for Literacy
Ms MacDonald is currently leading on a Literacy project in which Leadership skills are being developed by a group of dedicated Year 11 students who are currently mentoring Year 8s with their Literacy every Friday morning. Providing one to one support, the mentors have taken on a teaching role; showing Year 7s a range of strategies to use when tackling tricky spellings.

Visiting Author and Journalist
International journalist and author Yasmin Alibhai-Brown was invited to school by Ms Birk to talk to Year 10 girls about her life and experiences. A regular columnist for The Independent, and contributor for The Guardian, The Times and The Daily Mail as well as a regular on TV show The Wright Stuff, Yasmin was incredibly candid about life as an immigrant; family issues and many obstacles she has overcome to shape the successful person she is today.