Susmitha's 9 A Stars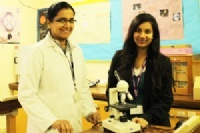 Top GCSE student Susmitha talks about her holiday phone call
Susmitha Dhavala was Heston Community School's top GCSE performer this year with an impressive 9 A* grades to add to an A grade she was awarded in Year 9 when she took her English Literature GCSE a year early. Her results combined with all the GCSE results produced the best results in Heston's history!
Susmitha was not featured in the pictures on our website and in the press as she was on holiday on results day and had to get her results telephoned through to her before the celebrations could start.
She is now studying Biology, Chemistry, Physics and Maths Mechanics in the Sixth Form at Heston and is keen to study Medicine at university. Her love of the sciences is shared by her mother who is a Science Technician at the School - pictured above in the Science Labs with Susmitha.
Susmitha said: "I was so nervous on results day but as soon as I found out my results I just could not believe it! I was over the moon and overflowing with happiness! Looking back over my GCSE years I learnt that dedication, hard work and a resilient approach towards work is the key to success - my GCSE experience has been an immensely gratifying one!"