A Tremendous Day!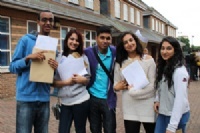 The best GCSE results in Heston's history - 87% get 5+ A*-C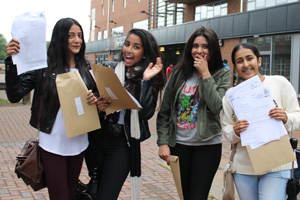 Well done to our students who produced the best GCSE results in the School's history!
Headteacher, Phil Ward, said: "This is a tremendous day for staff and students of Heston Community School with students having achieved the best GCSE results in the School's history with 87% of students achieving 5 or more A* to C grades and 71% 5 A*to C, including English and Maths Our results not only reflect the hard work and commitment of students and staff but our determination to nurture a passion for learning and to change the lives of our students through the education we provide. I am extremely proud to be Headteacher of the School."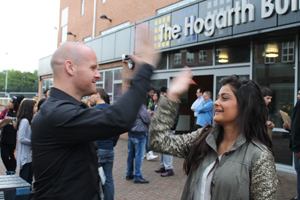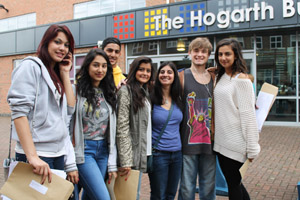 There were many happy students and teachers as they celebrated the best ever results for the School against a national picture of the percentage of pupils getting five top grade A* to C passes falling.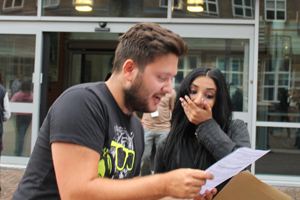 Congratulations to Heston students, who reversed this trend and particularly to the following students who achieved very impressive results: Susmitha Dhavala (9 A* and 1 A), Rumeet Wadhwa (8A* and 2 A), Aman Ghataura (7A*and 2 A), Omar Hijazi (6A*, 4 A and 1 B), Tejal Patel (6A*, 3 A and 1 B), Syedur Rahman (6A*, 3 A and 1 B), Sahar Aman (6A*, 3 A and 1 B), Simrit Ghatore (5A*, 4 A and 1 B), Harveena Padda (5A*, 3 A and 2 B), Roshan Hansla (4A*, 3 A and 1 B), Eishvi Sharma (3A*, 6 A and 1 B), Javad Khan (2A*, 7 A and 1 B), Amardeep Bagga (2 A*, 6 A and 2 B) and Abdirahman Omar Mohamed (1A*, 7 A and 2 B). Simrit, Tejal, Omar, Aman, Rumeet and Javad are pictured above right.
To view more images of students celebrating visit our Galleries page