Maths Award Winners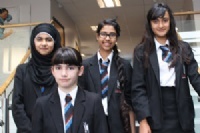 Congratulations to Nina, Fatima, Daya and Emily on their Silver Awards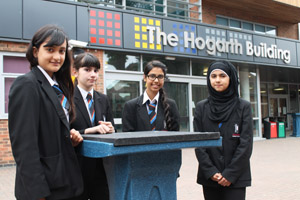 A group of Year 8 students entered the prestigious Junior Mathematical Challenge earlier this year and have now received their awards. The Challenge is organised by the United Kingdom Mathematics Trust through the University of Leeds. It is a very difficult competition and Heston students performed excellently with the following students being awarded certificates.

Best in School Certificate, Best in Year Certificate and Silver Certificate: Nina Fordred
Silver Certificates: Emily Arulappu, Daya Ghatora and Fatima Ali
Bronze Certificates: Neha Saroyia, Amar Nagi, Karan Sund, Indhi Gupta, Manpreet Nagpal, Nader Chaudhry, Jaskaran Sindhra, Sanisha Malhi, Huzaifa Sanik, Tahir Azimi, Nikhil Singh, Khaled Jama, Mohsin Rashid, Zainab Ehsan, Nakita Cambow
Congratulations to all the students (pictured below) and particularly to Emily, Nina, Daya and Fatima (pictured left to right in the picture above).