Open Evening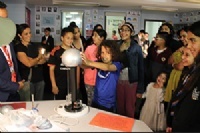 Standing room only to hear "What makes this school special"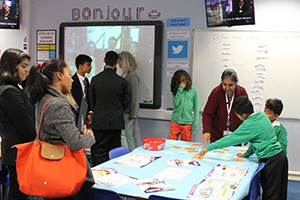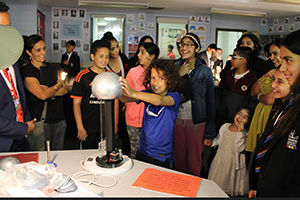 There was standing room only in the Hall as students and parents from 24 different junior and primary schools attended an action packed and informative Open Evening.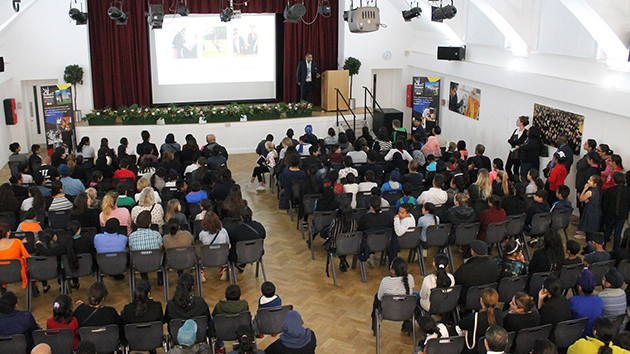 Mr Ranjit Berdesha, Acting Headteacher, spoke to our visitors outlining "what makes this school special". He spoke about small class sizes that were "superb for learning", how Heston was "not a community school in name only" and the principles of "embracing failure and learning from mistakes." Before Mr Berdesha introduced students to talk of their experience at Heston he said: "I am exceptionally proud of how well our students do … I have seen the school go from strength to strength to strength" – to illustrate this he highlighted the very impressive record Heston has as far as student progress is concerned, it is in the Top 100 schools nationally based on the Key Stage 2 to Key Stage 4 value added measure.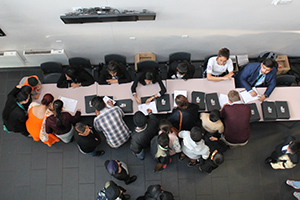 Manreen, a Year 7 student who has been at Heston for just three weeks told our Year 6 visitors that even though it is a big school "everyone is so helpful and friendly" she also suggested that if they "loved books, like I do, then the LRC is the place to be"
Harvir who is Deputy Head Boy talked about the opportunities that exist at Heston: "whatever your interests you can be assured there will be a lunch time or after school club for you."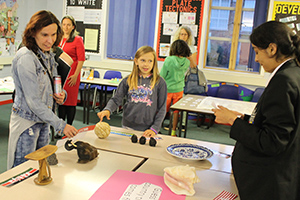 He also said that he had arrived at Heston as a shy and nervous student but now feels a much more confident individual thanks to the "genuine care, attention and support of the school" as well as opportunities he had grasped through the Debating Club and the Jack Petchey Speak Out programme.

Visitors were taken on a tour of the school by student tour guides who impressed their guest with one visitor saying: "We had a wonderful, wonderful tour guide – so polite and lovely we couldn't have asked for a better guide."
On their tour of the whole school visitors had the opportunity to carry out a range of activities as well as question teachers and Heston students about life at Heston.
The Science department was once again very popular with hands-on experiments for our visitors as well as some hair-raising moments and spectacular explosions. Visitors were particularly impressed by the outstanding art work and were able to create their own mosaic with their post-it note creations.
If you missed our Open Evening or if you did come and would like to see the school "in action" do contact the School Office (020 8572 1931) to arrange a visit.