Head Girls appointed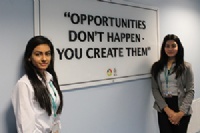 Amrit, Karishma and the Senior Student Team are appointed
Following presentations and voting by students and teachers, the Senior Student Team has been appointed, as have the leaders of the team, Karishma Bagga and Amrit Ghatora, our new Head Girls. This year has seen a change to the traditional appointment of a Head Boy and a Head Girl as both Karishma and Amrit impressed Mr Ward and the Sixth Form team so much that they had to offer both of them Head Girl posts.
As well as Head Girls the Senior Student Team (pictured above) consists of two Deputies and four Assistants:
Deputies: Yash Pandey and Harvir Segue
Assistants: Wiktoria Grabowska, Sarosh Hasnani, Akash Khambay and Kiran Razzaq
Karishma and Amrit are delighted with their appointments. This is what they had to say about their roles: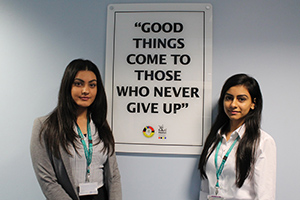 Karishma: "Head Girl - a title attached with a scope of responsibilities, duties and tasks; all with the focus of continuing to make our students and staff content, within the School, whilst also preparing our students for any challenges and changes they may encounter throughout their life - the very reason why I chose to put myself forward to become Head Girl.

Being appointed Head Girl gives me the opportunity to further enhance the learning environment, student voice and school life of the current and future generations of 'Hestonians'.

I feel truly honoured that I have been given the opportunity to give back to the School, after the five years that I have been here."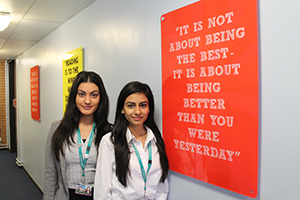 Amrit: "Heston is a school that has taught me a lot, not just academically but personally. Becoming Head Girl was a great achievement for me given that when I started at Heston I was one of the shyest students; it is because of the School that I have the confidence to fulfil this position. Therefore as Head Girl I would love to replicate my experience for other students as Heston is the perfect environment for us to grow and evolve and I hope our team can make the experience for all students as great as our own have been."

Congratulations to all the team!