Word of the Week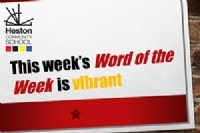 Vibrant is the first WOTW for 2016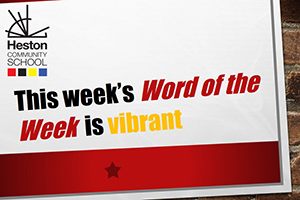 In our efforts to continue to develop students' literacy we have a 'Word of the Week' programme.
The 'Word of the Week' will be displayed in classrooms and around the school and will be used throughout lessons in order to ensure students are developing their vocabulary. Literacy achievement points can now be awarded to students for the correct usage of these words in all lessons.
The 'Word of the Week' for the week commencing 4th January is: Vibrant.
Vibrant:
1. To be full of energy or life.
Example: Heston Community School is a vibrant school with lots of after school activities.
2. A bright or striking colour or appearance
Example: Anup wore a vibrant orange jacket to make him stand out in the crowd.
3. Pulsating or quivering.
Example: Sarah was vibrant with anger.
Synonyms: spirited, flamboyant, trembling.
Antonyms: dull, pale, calm.