Mr Speaker at Heston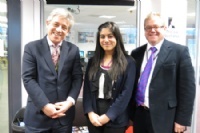 John Bercow, said he had "never had a better set of questions" than those asked by Heston students.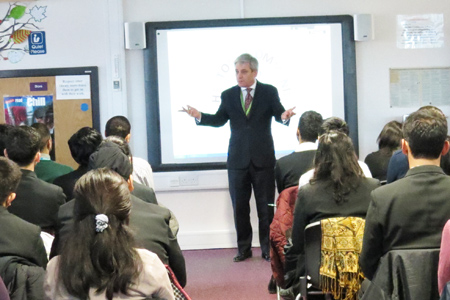 The Speaker of the House of Commons, John Bercow, spoke to Year 11, 12 and 13 students about Parliament and his role as Speaker and also answered questions from students. These questions covered constitutional reform, human rights, MP's expenses, controlling the House of Commons, EU membership, university fees and the experience level of cabinet ministers; Mr Bercow said: "I have never had a better set of questions."
The visit, on Thursday 7 February, was organised by Heston Community School's Head Girl, Sabah Choudhry, who is the Hounslow Member of the UK Youth Parliament. Sabah's motivation to organise the visit came after she took part in a Youth Parliament Annual Sitting in Nottingham that discussed how to increase school children's interest in politics.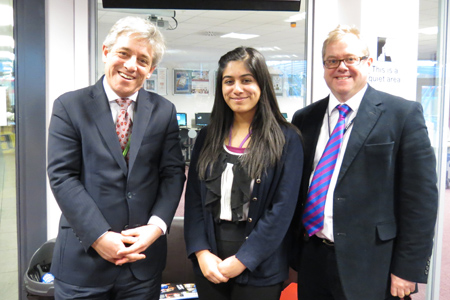 Sabah, pictured left with John Bercow and Headteacher, Phil Ward, said "The aim of this event was to engage young people in politics. A lot of young people don't understand or appreciate the significance politics has on our everyday lives, my aim as a Member of Youth Parliament has been to fix this apathetic attitude, to get young people involved in politics. I had the pleasure of meeting Mr Bercow in Nottingham where he agreed to visit my school- I have been planning this event for months and I am very excited it is has come to life! What is more exciting is the fact that students in my school are beginning to share the same attitude: my mission complete!"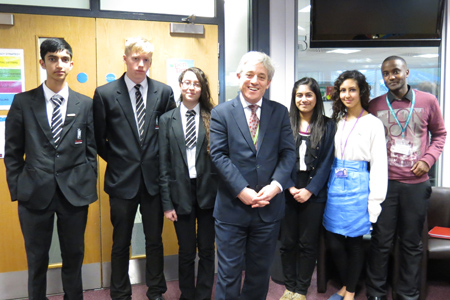 Phil Ward, Headteacher said, "It was a real privilege to welcome Mr Speaker to Heston Community School. I am sure that his visit will have inspired students to become more active and politically aware citizens. Perhaps, in the future, we may see an ex-Hestonian taking his place as Speaker of the House."