Jasmin loves Science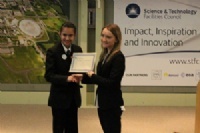 Year 9 Jasmin reaches National Science competition final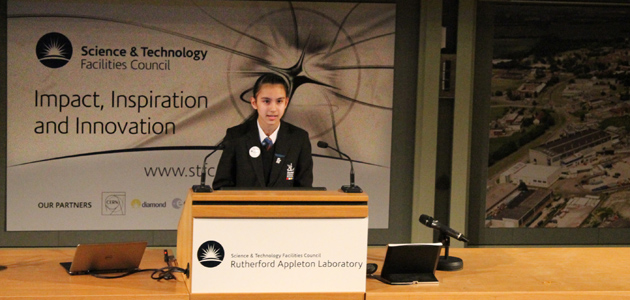 Well done to Year 9 student Jasmin Nitu who got through to the finals of a National Science competition by writing an essay about why she loves science.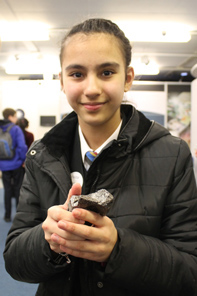 Jasmin joined other finalists at the Rutherford Appleton Laboratory (RAL) in Didcot and had a behind-the-scenes tour of its high-powered laser facility. She also found out more about the work carried out at RAL and heard about RAL's involvement in the Rosetta Mission, the recent landing of a robot on a comet after a 10 year journey. There was some "hands-on" science too involving heat detectors and lasers as well as handling a 4.5 billion year old meteorite (pictured right).
Jasmin then had to make a presentation to a panel of leading scientists in RAL's main lecture theatre (pictured at the top of the page). Jasmin's presentation and her answers to judge's questions were excellent and although she did not win she was a real credit to Heston and was presented with her finalist's certificate by an RAL scientist (pictured below left).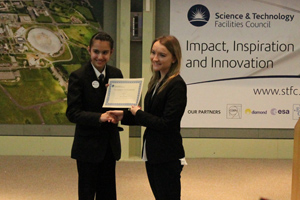 Jasmin thoroughly enjoyed her visit: "It was a wonderful and unique experience. I was amazed as to how the whole laboratory worked. I think you all should take the time to visit this amazing place."
If you were wondering why Jasmin loves science here are some extracts from her original letter that got her a place in the final as one of the top 15 students in the country:
"When I started secondary school, we had the opportunity to undertake more experiments such as chemical reactions and energy. First came energy, where we had to understand different types of energy. This was a fun experience as I learnt about the different types of energy. Next were chemical reactions, which is my favourite part in science. We did experiments such as testing for oxygen, carbon dioxide and hydrogen. We also did mixtures of acids and the PH scale. This was an exciting thing to discover as I always wanted to play with acids and see what different things I can do with them. As you can probably figure out my favourite topic is chemistry."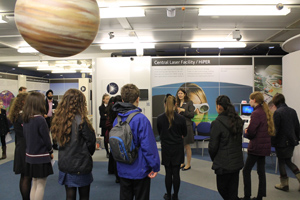 "Next comes the crucial year, year 9. Now that I have found out that science can change the world, we all should contribute to research such as pollution, recycling, medication, plants and water resources. We should all start thinking about the fact that global warming is happening such as melting glaciers, nuclear powers, cutting trees, wasting water and erupting volcanoes. We could all help in some way by donating and supporting science.
As a conclusion I love science because science can change the world in all aspects."