CEO of Man Group talks to Sixth Form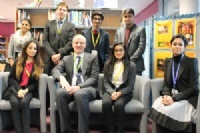 Manny Roman talked about Investment Banking to AS students
Mr Emmanuel (Manny) Roman a former employee of Goldman Sachs and now currently CEO of Man Group, the world's biggest listed hedge fund firm, addressed AS Business, Economics and ICT students about the ins and outs of 'Investment Banking'. He broke down the different job roles to provide students with a better understanding of what an Investment Banker actually does.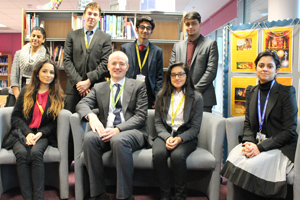 Mr Roman has had a very successful career. His work has led to the transformation of Manpower. As a leader he explained how he aims to inspire loyalty but also puts a degree of fear in his employees. He is the figurehead at a firm
Having worked for Goldman Sachs for 18 years and then being CEO at Man Group for a further 9 years his knowledge was invaluable.
He explained the importance of getting a good education coupled with the ability to simultaneously take on extra-curricular activities was the way forward when try to impress the big corporates. At the same time he also stressed that working in such an intense environment requires agility.
Mrs Nidhi Chhibba, Assistant Curriculum Leader for Business Studies and ICT, said: "Heston students came out of the talk inspired and definitely better informed about the world of banking and business. Students appreciated the time Mr Roman took out from his busy day to give back to the community. His words have left a lasting impression which will help form the lives of many young Heston students."