Record breakers with Lawrence Dallaglio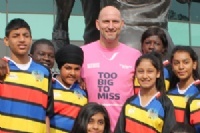 Heston students help ex-England Rugby Captain break the passing record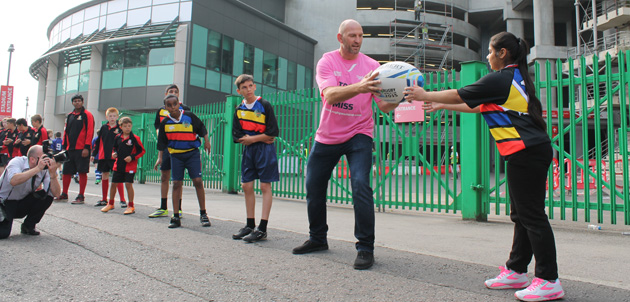 Rugby World Cup 2003 winner and England 2015 ambassador, Lawrence Dallaglio, together with 14 Heston students helped to create the longest rugby pass, as part of an event marking the one year countdown to the start of the Rugby World Cup.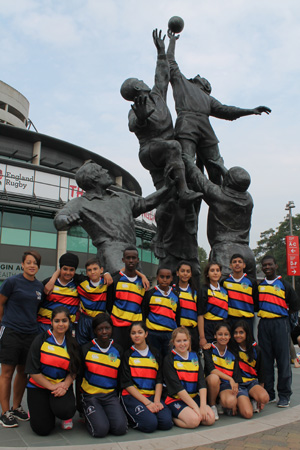 Year 7, 8 and 9, students who play rugby at Heston together with ex-England captain Lawrence and other schools passed a rugby ball from Redlees Park in Isleworth to Twickenham Stadium, ending at the Line-Out statue outside the stadium.
Mr Dallaglio said he was impressed by the skills on display that saw the ball passed 1,400 times over a distance of more than one mile: "They did a fantastic job and no one dropped the ball, which is more than can be said for a few professionals"
The event was also promoting rugby in Hounslow with the aim to get more young people playing the sport ahead of the tournament, which will run next year. Heston Community School is actively involved in the RFU's Schools' Programme and both boys' and girls' teams will compete throughout the season.
Miss Hollie Blenman, PE Teacher and Girls' Rugby Coach, said: "The students stepped up to this challenge and I was very proud of them. They are all now keen to start playing again and take on other schools ... I'm sure our rugby season will go really well."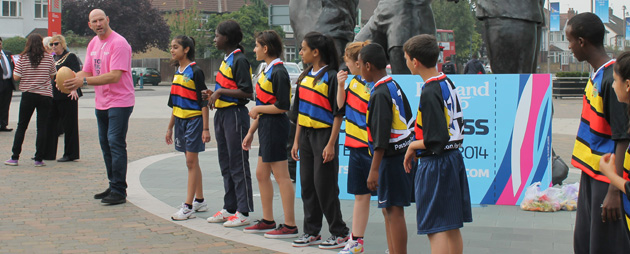 The students thoroughly enjoyed their record-breaking achievement ... here are some of their comments:
"It was great fun as we had to work as a team" – Amber Year 9
"It was a roller-coaster of excitement" – Hollie Year 9
"Today was great fun ... we met new people and beat the challenge" – Ida Year 9
"We really stood out in our great kit!" – Gurjeevan Year 7
"More fun than Thorpe Park!" – Yaya Year 7
"It was nerve-wracking every time I got the ball but so proud we did it" – Sana Year 9
"It wasn't as I expected but we worked as a team and with all the other schools which made it very interesting" – Anmol Year 9