Kulwinder's curry is a hit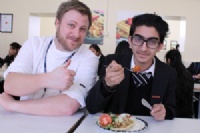 Kulwinder's family curry created for students and staff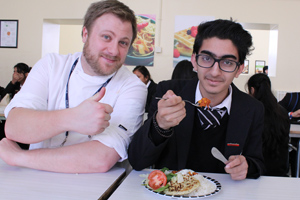 Wilson Jones, Heston's Caterers, are keen to provide a variety of authentic meals as well as organising special events for their customers – both students and staff.
Two recent initiatives have seen Ryan Moore, our Head Chef, providing an early barbecue as summer seemed to have arrived as well as working with Kulwinder Kullar, one of our Teaching Assistants, to create her style of curry.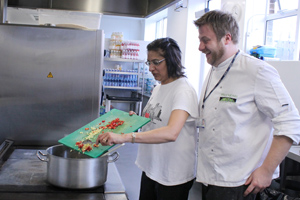 Kulwinder worked with Ryan in the school's kitchen to create a Chick Pea curry using a secret family recipe passed down from her mother which gives the curry a tantalising flavour and was enjoyed by students and staff at lunch time.
Kulwinder is a keen cook and said: "Cooking has been a part of my life for over 23 years. I started off as a novice cook, experimenting with various food and spices. From then on my culinary skills have got better and better. I believe experimenting with food is the secret to good cooking. My specialities are meat dishes, one of my signature dishes is a lamb dish called All in One Lamb Curry which is one of Indian Chef Anjam Anand's recipes. I was delighted to work with Ryan and see my dishes served to our students."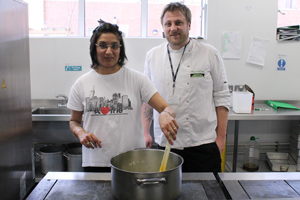 Ryan is keen to encourage other members of staff, parents or pupils to share their favourite recipes with him to extend the range of dishes offered, he said: "We are always looking for new recipe ideas and if those recipes are tried and tested favourites so much the better."