Parent Information
Personal & Social Development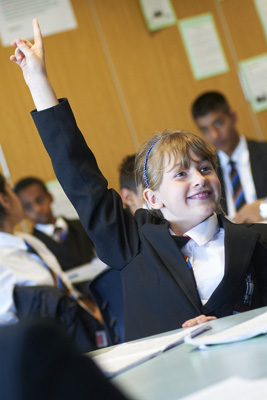 New students joining Year 7 will be under the guidance of Miss Donna Slater (Learning Co-ordinator), and a team of Tutors who will normally stay with the Year Group as they progress through the School. Each Year Group will have a member of the Senior Leadership Team as a link for students, staff and parents.
The Form Tutor is responsible for registering the students at the beginning of the morning and for the delivery of the PSCHEE Programme,
Assembly for the Year Group is usually held in the Hall or Gym once a week and is taken by a member of the Leadership Team or the Learning Co-ordinators.
The progress of students is monitored by the Tutor, the Subject Teachers, the Curriculum Leaders and the Learning Co-ordinators.
The student support system tries to ensure that all children gain maximum benefit from everything the School has to offer. The Tutor is the first person a child can turn to for help and advice since it is the Tutor who has daily contact with the child.
Parents who wish to discuss any aspect of their child's progress, are invited to contact the school to make an appointment to see the Learning Co-ordinator.
Health and Medical Care
Welfare Assistants with First Aid qualifications are on duty throughout the School Day in order to deal with students who are unwell or injured. In the case of an accident or an emergency, the School will endeavour to contact a parent. The Headteacher or other designated member of staff will act on the parents' behalf until contact is made.
Examination Information
It is the aim of Heston Community School to make the examination experience as stress-free and successful as possible for all candidates.
The awarding bodies (or examination boards) set down strict criteria which must be followed for the conduct of examinations and Heston Community School is required to follow them precisely. Details are outlined in the documents listed below.
If you have any queries or need help or advice at any time before, during or after the examinations please contact the School on 020 8572 1931 or email info@hestoncs.org
Click on the document below to view more information
Examinations - Parents' and Students' Guide 2016
Emergency Contact
Please ensure that emergency telephone numbers (e.g. work number, or neighbour's number) are kept up to date. Notify any changes of address, telephone, emergency contact etc to the School Office immediately.