Sixth-form students achieve Gold CREST awards
Heston sixth-form students achieve Gold CREST awards from the British National Science Association
Five sixth-form students took part in a 70-hour research project designed to replicate university level research. The students that took part were:
Fatima Ali 13E
Harmeet Singh 13B
Kamalpreet Sadhra 13A
Jenna Chughtai 13C
Neha Saroyia 13B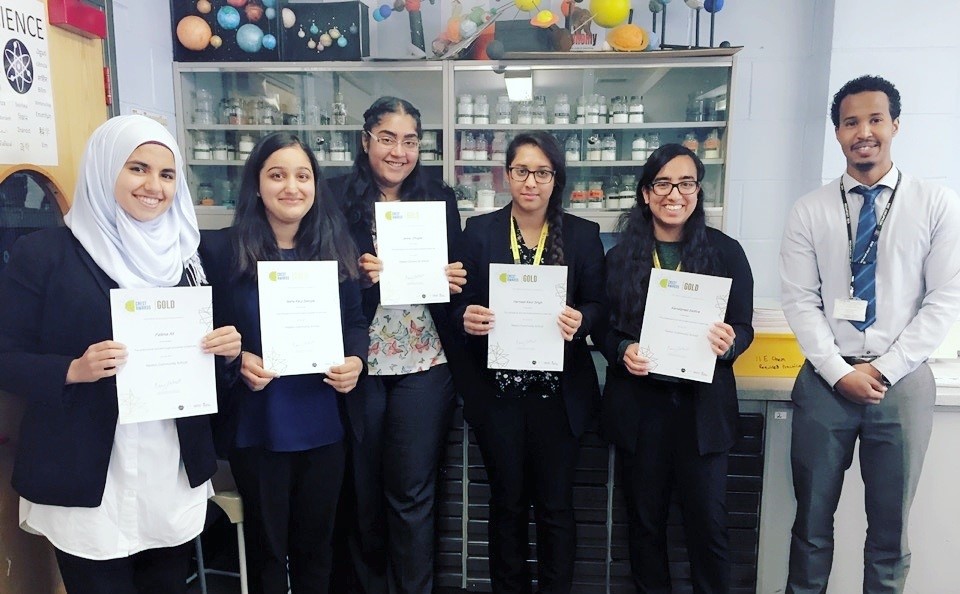 From left to right: Fatima Ali, Neha Saroyia, Jenna Chughtai, Harmeet Singh, Kamalpreet Sadhra and Mr Abukar
The title of their project was 'Investigating the antibacterial and antifungal properties of plant oils'. The aim of the project was to determine the antibacterial efficacy of six different plant oils against various bacterial and fungal strains. Students carried out their investigation under aseptic conditions using a disc diffusion method (https://link.springer.com/article/10.1007/BF01640803) they then calculated the average area of inhibition produced by the plant oils. The research was conducted to a very high standard which included the use of multiple peer reviewed scientific papers. As a result, the students above were issued with Gold level CREST Awards from the British National Science Association. The Gold CREST Award is the highest award that could be issued from CREST which demonstrates the fantastic quality work our students have produced.
The students were supervised by Mr Abukar, Assistant Curriculum Leader for Science who acted as their mentor.
Full access to the paper can be found by clicking the link below
https://drive.google.com/file/d/0B445bWsSoU94V3hlYlhXMG9vSzg/view?usp=sharing.